There's something special about the holiday season at VirtualExpo Group. Conviviality and sharing are in the spotlight in these last few weeks separating us from 2020. Each department has its own rituals, but a series of events are organized by the company as a whole to celebrate the end of the year in the right spirit.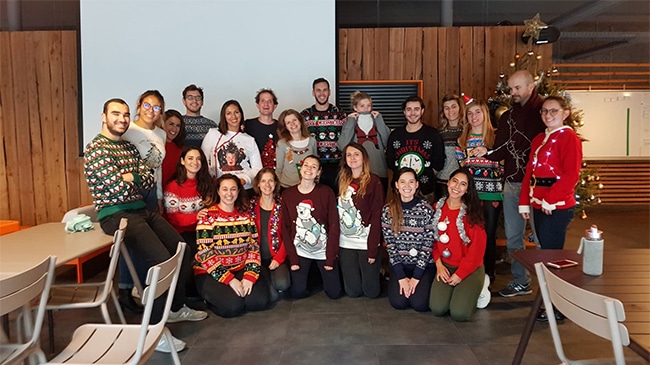 These include several highlights, including the famous Christmas party that takes place in VirtualExpo Group's openspace office. On this occasion, employees and their families discover the company's premises, which have been transformed into a real place of celebration. Meeting spaces are converted into playrooms and screenings of cartoons delight young and old alike.
An ugly Christmas sweater contest is also organized by a colleague from New York. At the end of the day, the two employees who've received the most votes on our company social network win a gift.
A human-sized advent calendar is installed in the open space at the end of November. Every morning, an employee opens a package and discovers a package of goodies. Their mission (should they choose to accept it) is to share this package with their colleagues. It's enough to start your day off on the right foot!
Sharing obviously involves food. Each department has its own rituals: the IT department, for example, organizes a giant raclette on the company's for a friendly lunchtime break. The marketing department organizes a Secret Santa Christmas lunch with a €5 budget for a unique and quirky gift.
For the attribution of gifts, a dice game gives instructions to the player who throws it: pass the gift to the person sitting to the right or opposite, unwrap it directly, etc. After one or two rounds, players end up with a gift... sometimes, not quite what they expected! Guaranteed laughs!
A new year is coming to an end with its share of challenges, and the employees at VirtualExpo Group of all different origins and cultures are sharing this time together. For the last few years, a traditional new year's swim has been organized at the Corbières beach not far from the company headquarters. Employees meet here to start the new year off with a challenge!
Because we are driven by the same values, we join forces to succeed together. This highlights one of our company values in particular: Stronger Together.
Happy holidays and a very happy new year to all.